Active Repair: Works from the Social Justice Sewing Academy
Time: Jan. 27, 2023, 6 p.m. - 8 p.m.
Location: Community Folk Art Center, 805 E. Genesee Street

Part of the Syracuse Symposium series.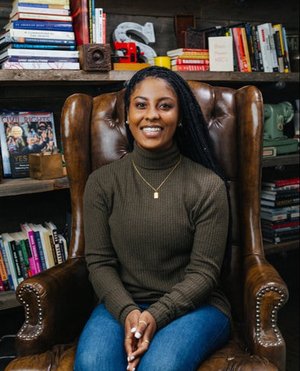 Sara Trail (Social Justice Sewing Academy / SJSA)
The Community Folk Art Center hosts a reception celebrating an exhibit by the Social Justice Sewing Academy. Sara Trail offers remarks about the project, its history and impact, with a focus on how textile arts can work toward repairing societal injustices. Visitors can tour the gallery and view the curated selection of quilts on display (exhibit runs through Feb. 17).
This Syracuse Symposium event is organized by the School of Information Studies. For information, or to request accessibility accommodations, please contact Rachel Ivy-Clarke by Jan. 18.
Exhibit: December 12, 2022 - February 17, 2023
Reception: January 27, 2023 - 6:00 p.m.
Workshop: January 28, 2023 - 10:00 a.m. - 4:00 p.m.
---
Biography: Sara Trail learned to sew at the young age of 4, and is now a successful author, sewing teacher and pattern and fabric designer. At age 13, she wrote a nationally published book, Sew with Sara that teaches teens and tweens how to create cute clothes and accessories for fun and profit. At 15, she starred in a nationally published DVDs, "Cool Stuff to Sew With Sara." She then designed two fabric collections, Folkheart and Biology 101 -- a pattern collection with Simplicity, "Designed with Love by Sara." Her pattern collection features prom dresses, backpack patterns, hoodies and jackets as well as aprons and tote bags. While attending UC Berkeley, Sara created a quilt in memory of Trayvon Martin, intertwining her love for sewing and passion for social justice. After graduating from the Harvard University Graduate School of Education, she founded the Social Justice Sewing Academy (SJSA) to be a platform where youth create art that engages and educates communities.