Black Noodles, Replenishing / Reaping the Earth
Time: Feb. 23, 2023, 5:30 p.m. - 7:30 p.m.
Location: Life Sciences 001 and Shaffer Galleria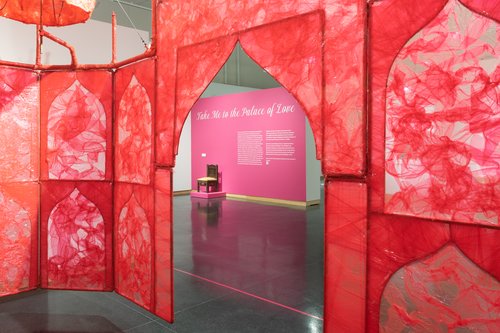 Rina Banerjee (Watson Professor)
5:30 - lecture in Life Sciences 001
6:45 - reception in Shaffer Galleria
"Between birth and death the constant spins and oodles of noodles migrate, waffle uncertainty." Banerjee takes to the podium to explore diaspora, displacement, and science in her drawings and art installations in the exhibition, Take Me to the Palace of Love. Reception follows in the Shaffer Galleria. (Photo credit: Lily LeGrange)
Learn more about the full series of events--and co-sponsors--for 2023 Jeannette K. Watson Distinguished Visiting Professor in the Humanities, Rina Banerjee.