Call Her Ganda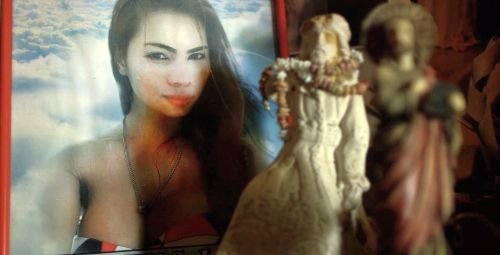 Time: Sept. 29, 2018, 1 p.m. - 3 p.m.
Location: Shemin Auditorium, Shaffer Art Building

Part of the Syracuse Symposium series.
16th Annual Syracuse University Human Rights Film Festival
PJ Raval (USA)
When Jennifer Laude, a Filipina transwoman, is brutally murdered by a U.S. Marine, three women intimately invested in the case—an activist attorney (Virgie Suarez), a transgender journalist (Meredith Talusan) and Jennifer's mother (Julita "Nanay" Laude)—galvanize a political uprising, pursuing justice and taking on the hardened legacies of US imperialism, including the Visiting Forces Agreement, which allows U.S. military personnel stationed in the country to remain under U.S. jurisdiction. Fusing personal tragedy, human rights activism and the little known history, and complex aftermath, of U.S. imperial rule in the Philippines, Call Her Ganda illuminates how a brutal story of gendered violence against a trans woman became a geopolitical question of postcolonial national sovereignty.
(98 min, English and Tagalog with English Subtitles)
For a complete schedule and additional details as they develop, visit the festival website.
---
FESTIVAL CO-SPONSORS:
B. Falk College of Sport and Human Dynamics, David B. Falk College of Sport and Human Dynamics; School of Education; Department of Languages, Literature and Linguistics; Citizenship and Civic Engagement Program; International Relations Program; Latino-Latin American Studies Program; Native American and Indigenous Studies Program; Program for the Advancement of Research on Conflict and Collaboration (PARCC), Disability Cultural Center; LGBT Resource Center; South Asia Center
FESTIVAL SUPPORTERS:
Department of Art and Music Histories; Department of History; Department of Political Science; Department of Religion; Department of Sociology; Department of Women's and Gender Studies; Asian/Asian American Studies Program; LGBT Studies Program; Middle Eastern Studies Program; Office of Multicultural Affairs; SASSE: Students Advocating Safe Sex and Empowerment
NOTE: Films will be screened with English closed captions or with English subtitles, as noted. Communication Access Realtime Translation (CART) will be available at all screenings. If you require other accommodations, please contact Kristen Northrop (315-443-7358) by September 15, 2018.
Roger Hallas, Tula Goenka, English, Newhouse