Embodied Belongings: Exploring the Politics of 'Queer' in South Asia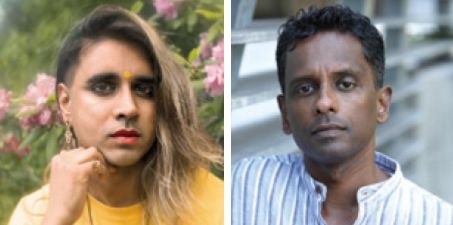 Time: Oct. 5, 2017, 7 p.m. - 8:30 p.m.
Location: Kilian Room, 500 Hall of Languages

Part of the Syracuse Symposium series.
Vivek Shraya (Toronto)
Multidisciplinary South Asian artist Vivek Shraya will show and discuss a range of media -- literature, song and film -- to highlight the complex relationship between belonging and the body itself.  Her work consistently tackles what it means to belong (and not belong) in relation to family, religion, community spaces, queerness and transness.
Shraya appears as part of the South Asia Center's Fall Symposium -- in collaboration with the Ray Smith Symposium.
Friday, October 6
6:30 - 7:30 p.m.
Kilian Room, 500 Hall of Languages
This session features a reading by widely published, award-winning author, Shyam Selvadurai. His novel Funny Boy draws on his experience of being gay in the violent 1980s of Sri Lanka.  
---
Additional supporters:
South Asia Center
Ray Smith Symposium
Anthropology
Religion
Women's and Gender Studies
English
LGBTQ Program
Ford Maxwell Professor South Asian Studies
Carol Babiracki, South Asia Center