For Ahkeem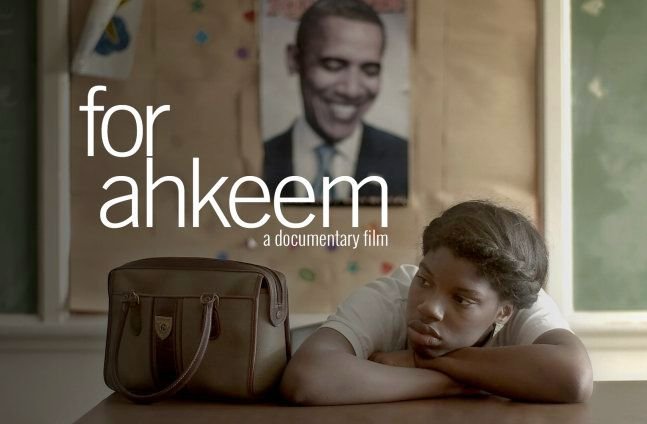 Time: 7 p.m. September 28 - 9:30 p.m. September 30
Location: Joyce Hergenhan Auditorium, Newhouse 3

Part of the Syracuse Symposium series.
15th Annual Syracuse University Human Rights Film Festival: Opening Night Film and Reception
FOR AHKEEM
Jeremy Levine and Landon van Soest (USA, 2017, 89 min, closed-captioned in English)
Beginning one year before the fatal police shooting of a Black teenager in nearby Ferguson, Missouri, For Ahkeem is the coming-of-age story of Daje Shelton, a Black 17-year-old girl in North St. Louis. She fights for her future as she is placed in an alternative high school and navigates the marginalized neighborhoods, biased criminal justice policies and economic devastation that have set up many Black youth like her to fail. Over two years we watch as Daje struggles to maintain focus in school, attends the funerals of friends killed around her, falls in love with a classmate named Antonio, and navigates a loving-but-tumultuous relationship with her mother. Through Daje's intimate coming of age story, For Ahkeem illuminates the challenges that many Black teenagers face in America today, and witnesses the strength, resilience, and determination it takes to survive. Includes introduction and Q&A with directors Jeremy Levine and Landon van Soest.
Themes of "Belonging" weave throughout the program selections in this 15th anniversary year, September 28-30. Screenings are free and open to the public.
Visit the official SUHRFF website for complete information.
FILMS WILL BE SCREENED with English closed captions or with English subtitles, as noted. Communication Access Real-Time Translation (CART) will be available at all screenings. If you require other accommodations, please contact Kristen Northrop (315-443-7358) by September 15, 2017.
---
Festival Presenters:
The Humanities Center
S.I. Newhouse School of Public Communications

Festival Sponsors:
David B. Falk College of Sport and Human Dynamics
School of Education
Lesbian, Gay, Bisexual and Transgender Resource Center
South Asia Center
Citizenship and Civic Engagement Program
International Relations Program
Latino-Latin American Studies Program
Program for the Advancement of Research on Conflict and Collaboration (PARCC)
SUNY College of Environmental Science and Forestry

Festival Supporters:
Disability Cultural Center
Office of Multicultural Affairs
Department of Anthropology
Department of Art & Music Histories
Department of Geography
Department of History
Department of Political Science
Department of Religion
Department of Sociology
Department of Women's and Gender Studies
Lesbian, Gay, Bisexual and Transgender Studies Program
Tula Goenka, Roger Hallas, Newhouse, Arts & Sciences