Larry Blumenfeld: Watson Visiting Professor in Residency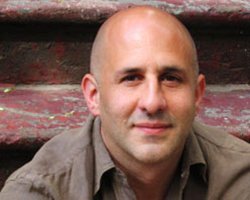 Time: 9 a.m. March 25 - noon April 5
Location: Dates, times, and locations vary: see listings below
The Jeannette K. Watson Distinguished Visiting Professorship in the Humanities
Larry Blumenfeld (Brooklyn, NY)
Jazz in Troubled Times: The Relevance and Resonance of a Culture
Through a two-week residency at Syracuse University as Watson Visiting Professor for 2019, cultural journalist and music critic Larry Blumenfeld examines jazz as an aesthetic construct, a living culture, a language of many dialects, a personalized science and a framework for thought and action as related to social justice. Through lectures, presentations, workshops and public discussions, he looks beyond conventional histories and limitations of genre and style to tell stories of empowering legacies, ongoing struggles and essential cross-cultural connections. He proposes jazz as a resonant form and relevant framework for understanding personal and communal identities in turbulent times. He also investigates timeless traditions of improvisation, and the current relationship between arts and activism. In doing so, Blumenfeld draws on his 30 years of journalism and criticism; his immersion in the jazz cultures of New York, New Orleans and Havana; and his ongoing dialogues with celebrated musicians.
Scheduled events:
Monday, March 25, 4:30-6 p.m.
Welcome Reception for Larry Blumenfeld
Goldstein Alumni & Faculty Center
Tuesday, March 26, 5-6:30 p.m.
Chicago Fire: The Men and Women of the AACM and Their Enduring Power
Peter Graham Scholarly Commons, 114 Bird Library
Wednesday, March 27, 9:30-11:30 a.m.
Writing About Improvisation: A Workshop
304 Tolley Humanities Building
Friday, March 29, 6:30-8:30 p.m.
La Conexión Cubana (The Cuban Connection), featuring Yosvany Terry Quartet in performance
La Casita Cultural Center, 109 Otisco Street
Monday, April 1, 5:30-7:30 p.m.
Armstrong in Prison: The Fight for New Orleans Jazz Culture Since the Flood
Joyce Hergenhan Auditorium, Newhouse 3
Tuesday, April 2, 6:30-8 p.m.
How Does Jazz Survive (and Thrive)?
Lender Auditorium, 007 Whitman School of Management
Wednesday, April 3, 2-4 p.m.
The Answer is Culture: A Roundtable Discussion About Arts, Activism and Cultural Policy
Peter Graham Scholarly Commons, 114 Bird Library
Thursday, April 4, 12:30-2 p.m.
She Played it Like That: Jazz Listening Party, with Belfer Archives
Peter Graham Scholarly Commons, 114 Bird Library
Friday, April 5, 5:30-7:30 p.m.
'Gangsterism' on Campus: A Conversation About Jazz, Race and Creative Intent, featuring Jason Moran, followed by a solo-piano performance
Hendricks Chapel
Click here to download the 2-sided "weeks-at-a-glance" flier of lectures, workshop, and performances.
---
BIOGRAPHY: Larry Blumenfeld is a culture reporter, music critic and lecturer, who writes regularly for The Wall Street Journal, and has contributed to many newspapers, magazines, scholarly essay collections and websites. His work focuses on jazz and Afro-Latin music, and on the intersections between culture, politics and activism. His research as a Katrina Media Fellow for the Open Society Institute inspired a book about cultural recovery in New Orleans, due next year from the University of California Press. He was a National Arts Journalism Fellow at Columbia University's Graduate School of Journalism. He curates Spoleto Festival USA's jazz series; the Deer Isle Jazz Festival in Stonington, Maine; and the National Jazz Museum in Harlem's series, 'Jazz and Social Justice.'
---
Additional supporters:
Council on Diversity and Inclusion
S.I. Newhouse School of Public Communications
Goldring Arts Journalism Program
Hendricks Chapel
Museum Studies
English / Creative Writing
School of Education
Latino-Latin American Studies
SUArt Galleries
Art and Music Histories
Setnor School of Music
Writing Studies, Rhetoric, and Composition
History
Samba Laranja
CNY Jazz Central
Belfer Archives
Special Collections Research Center
WAER
The 2019 Watson Professor residency is hosted by Eric Grode - director of the Goldring Arts Journalism Program, and Assistant Professor in the S.I. Newhouse School of Public Communications.

The Jeannette K. Watson Distinguished Visiting Professorship in the Humanities is a preeminent lectureship originally established by the Watson family to support on-campus residencies of prominent humanities scholars, writers, and artists.
Eric Grode, Newhouse, Goldring Arts Journalism Program