On Her Shoulders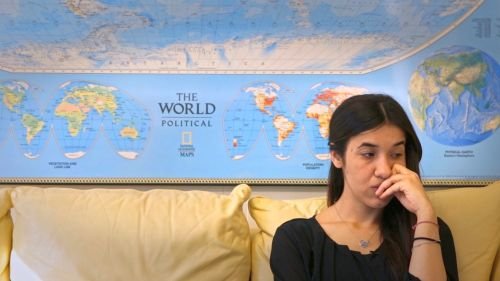 Time: Sept. 28, 2018, 7 p.m. - 9 p.m.
Location: Joyce Hergenhan Auditorium, Newhouse 3

Part of the Syracuse Symposium series.
16th Annual Syracuse University Human Rights Film Festival
Alexandria Bombach (USA)
At only twenty-three years old, Nadia Murad's life is a dizzying array of important undertakings—from giving testimony before the U.N. Security Council to visiting refugee camps to soul-bearing media interviews, emotionally draining speeches and an endless succession of one-on-one meetings with top government officials. Though it all takes an enormous toll, this once ordinary girl has survived the 2014 genocide of the Yazidis in Northern Iraq and escaped sexual slavery at the hands of ISIS to become a relentless beacon of hope for her people. With deep compassion and a formal precision and elegance that matches Nadia's calm and steely demeanor, filmmaker Alexandria Bombach follows this strong-willed young woman, who once dreamed of opening a beauty salon in her village, as she fights to bring ISIS to justice and save her people from extinction.
(94 minutes, English, Kurdish, and Arabic with English subtitles)
Visit the festival website for complete schedules and addition details as they develop.
---
FESTIVAL CO-SPONSORS:
B. Falk College of Sport and Human Dynamics, David B. Falk College of Sport and Human Dynamics; School of Education; Department of Languages, Literature and Linguistics; Citizenship and Civic Engagement Program; International Relations Program; Latino-Latin American Studies Program; Native American and Indigenous Studies Program; Program for the Advancement of Research on Conflict and Collaboration (PARCC), Disability Cultural Center; LGBT Resource Center; South Asia Center
FESTIVAL SUPPORTERS:
Department of Art and Music Histories; Department of History; Department of Political Science; Department of Religion; Department of Sociology; Department of Women's and Gender Studies; Asian/Asian American Studies Program; LGBT Studies Program; Middle Eastern Studies Program; Office of Multicultural Affairs; SASSE: Students Advocating Safe Sex and Empowerment
NOTE: Films will be screened with English closed captions or with English subtitles, as noted. Communication Access Realtime Translation (CART) will be available at all screenings. If you require other accommodations, please contact Kristen Northrop (315-443-7358) by September 15, 2018.
Tula Goenka, Roger Hallas, Newhouse, English