Plastic China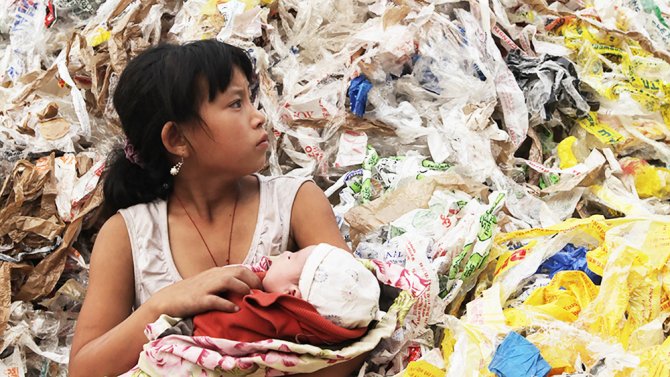 Time: Sept. 30, 2017, 4 p.m. - 6:30 p.m.
Location: Shemin Auditorium, Shaffer Art Building

Part of the Syracuse Symposium series.
15th Annual Syracuse University Human Rights Film Festival
PLASTIC CHINA
Jiu-liang Wang (Hong Kong/China, 2016, 82 min, Mandarin with English subtitles)
Director Jiu-liang Wang captures the striking, melancholic beauty of a vast and lifeless artificial landscape — a Chinese countryside covered almost entirely in imported plastic. Men and women build lives upon this waste, and children learn about the outside world through tattered western advertisements and tabloid images. Yet even within such a profoundly isolating and toxic atmosphere, hope and humanity find their way into the defiantly optimistic 11-year-old Yi-Jie. When she's not building forts beneath massive plastic mounds, or constructing fake computers from magazine cutouts, Yi-Jie dreams of eating real fruits and raising healthy animals, as well as attending school and befriending kids her own age. She finds a kindred spirit in the young and optimistic Kun, the local recycling facility owner, who dreams, like she does, of one day escaping the plastic countryside and finding a better life. (Sundance Film Festival) 
Visit the official SUHRFF website for more information.
FILMS WILL BE SCREENED with English closed captions or with English subtitles, as noted. Communication Access Real-Time Translation (CART) will be available at all screenings. If you require other accommodations, please contact Kristen Northrop (315-443-7358) by September 15, 2017.
---
Festival Presenters:
The Humanities Center
S.I. Newhouse School of Public Communications

Festival Sponsors:
David B. Falk College of Sport and Human Dynamics
School of Education
Lesbian, Gay, Bisexual and Transgender Resource Center
South Asia Center
Citizenship and Civic Engagement Program
International Relations Program
Latino-Latin American Studies Program
Program for the Advancement of Research on Conflict and Collaboration (PARCC)
SUNY College of Environmental Science and Forestry

Festival Supporters:
Disability Cultural Center
Office of Multicultural Affairs
Department of Anthropology
Department of Art & Music Histories
Department of Geography
Department of History
Department of Political Science
Department of Religion
Department of Sociology
Department of Women's and Gender Studies
Lesbian, Gay, Bisexual and Transgender Studies Program
Tula Goenka, Roger Hallas, Newhouse, Arts & Sciences