Reimaginings: A Virtual Concert of New Music for Organ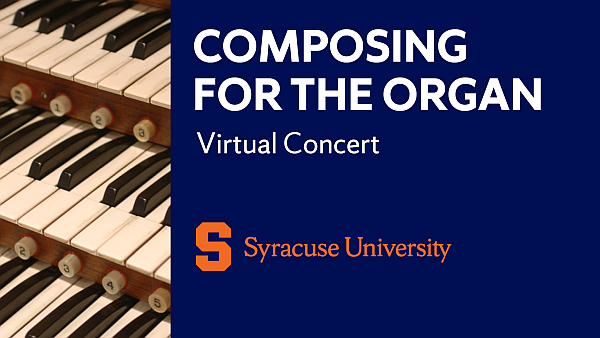 Time: Sept. 12, 2020, 7:30 p.m. - 8:45 p.m.
Location: Virtual Event

Part of the Syracuse Symposium series.
Anne Laver (Syracuse University)
Augustine Sobeng (Syracuse University)
Jonathan Embry (Most Holy Rosary Roman Catholic Church, Syracuse)
Alexander Meszler (Mohawk Valley Community College)
Natalie Draper (Syracuse University)
Enjoy a streamed concert recorded at St. Paul's Episcopal Church in downtown Syracuse, featuring new works for organ, including world premieres by Jonathan Embry and Natalie Draper.
The organ is a complex instrument with a 2000-plus year history and many composers shy away from writing for it because they find the scale and size of the instrument and the incredible diversity of style daunting. This public performance sets out to inspire future composers to write their own pieces for organ.
Several such up-and-coming performers and composers -- recent graduates of the Setnor School of Music -- are featured in this program. Jonathan Embry and Alex Meszler have gone on to receive doctorates, each making advocacy of new music part of their professional profile. Embry has composed a number of organ pieces, and Meszler serves on the National Committee for New Music for the American Guild of Organists. Augustine Sobeng, a first-year graduate student and VPA Scholar in the Setnor School of Music who hails from Ghana, is an accomplished improvisor and budding composer.
Much more than a recital of pieces, you will hear from the composers/performers themselves, offering a deeper engagement with the music and the creative process.
This is event is part of Syracuse Symposium's year-long series on "Futures."
---
Additional supporters:
Syracuse Chapter of the American Guild of Organists
Special Projects Fund of the San Francisco Chapter of the American Guild of Organists
Mozingo Endowment of the Indianapolis Chapter of the American Guild of Organists
Anne Laver, Setnor School of Music / VPA