Repair Works
Time: March 26, 2023, 2 p.m. - 3:30 p.m.
Location: Joyce Hergenhan Auditorium, Newhouse III

Part of the Syracuse Symposium series.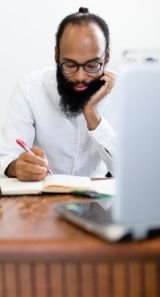 Flannery Cunningham
Stacy Garrop
Anthony R. Green (Guest Conductor, pictured)
This program of compositions by Green, Cunningham, and Garrop includes music that addresses justice, identity, and the work of "repair." The pieces reimagine old stories and reconnect identities in new ways, referencing the past but always moving forward.
Society for New Music and the Department of Art and Music Histories host this afternoon concert of "Repair" works performed by Society players:
Flannery Cunningham (b. 1991) ska jag också bli gammal? (I told you), 2019, for voice and small ensemble
Anthony R. Green (b. 1984) Collide-oscope IV, for violin and viola (who also sings)
Anthony R. Green Hush of Nightfall, 2021, for solo flute
Anthony R. Green ... chiamo la Morte ..., 2023, for chamber ensemble and mezzo-soprano (world premiere)
Stacy Garrop (b. 1969) Glorious Mahalia, 2017, for string quartet and electronics
This concert is free to all SU students, faculty & staff with valid ID.
Find additional ticket information at the Society for New Music website.