Sankofa Imperatives, Black Women, and the Archival Turn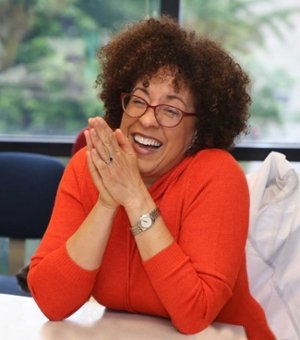 Time: Dec. 2, 2021, 4 p.m. - 5:15 p.m.
Location: virtual
P. Gabrielle Foreman (Penn State University)
In this talk, P. Gabrielle Foreman takes up what she calls the Sankofa imperative in Black digital and artistic spaces. Reflecting on the two major stands of her research as the founding faculty director of the Colored Conventions Project and as the research historian for a decade-long performance project to bring buried Black history to the stage, Foreman discusses how digital archives and resurrectionary poetics stitch the ephemerality and partiality of the Black past-present into a quilt of historical recovery.
This webinar, open to all, concludes Foreman's mini-residency as 2021 Jeannette K. Watson Distinguished Visiting Professor in the Humanities at the Syracuse University Humanities Center.
---
P. Gabrielle Foreman's 2021 residency is hosted by Dorri Beam, Director of Graduate Studies and Associate Professor of English; Joan Bryant, Department Chair and Associate Professor of African American Studies; Petrina Jackson, Director of the Special Collections Research Center; and Patricia Roylance, Associate Professor of English.