Family Pictures Syracuse: Photo-Sharing Day
Time: Oct. 14, 2023, 9 a.m. - 2 p.m.
Location: Everson Museum of Art, 401 Harrison St.

Part of the Syracuse Symposium series.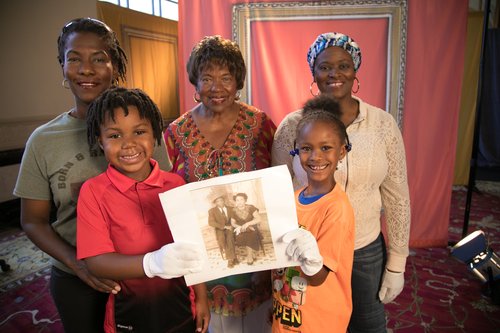 Syracuse community members are invited to the Everson Museum between 9am and 2pm to participate in photo-sharing activities to build our community archive.
Record the stories behind your family photographs
Pose for your portrait
Digitize your old family photos
Learn more about photo preservation
Educational opportunities for children
Connect with fellow community members
RSVP here to reserve your spot for portraits and video sessions!
For more information, email the group or call (315) 741-5706.
About the Family Pictures Syracuse project
Family Pictures Syracuse is a collaboration between Syracuse's Turning the Lens Collective and The Family Pictures Institute for Inclusive Storytelling to assemble an archive for social justice in the city of Syracuse. The Turning the Lens Collective recognizes that the photographs we take, display in our homes, or keep in family albums are sites for public memory—windows into stories that too often go unseen and underwritten. With our Family Pictures Syracuse project, we seek to inspire our city to narrate the stories our images hold to ensure that our histories are not lost or overlooked. We believe that working toward a living community photo archive will benefit our city's residents as its very existence will assert that everyone, especially our most vulnerable members, have always and will continue to have a stake in Syracuse's shared local history, our present, and our future.
This free public event is part of a weekend series of activities relating to the "Family Pictures" project:
Friday, October 13 | 6-8pm
Film screening: Through A Lens Darkly
Sunday, October 15 | 2:00-4:00pm
Family Pictures Syracuse Grand Finale
Wednesday, November 15 | 5-7pm
Family Pictures in the Archive
Special Collections Research Center
---
Support for Family Pictures Syracuse comes from:
African American Studies
Allyn Family Foundation
Anthropology
Community Folk Art Center
Democratizing Knowledge
Engaged Humanities Network
English
Everson Museum of Art
Film and Media Arts
History
Humanities New York
Jewish Studies Program
Lender Center for Social Justice
LGBTQ Studies Program
LightWork Labs
Office of the Associate Provost for Strategic Initiatives
Orange Television Network
Photography and Literacy Project (PALs)
Religion
Special Collections Research Center
Syracuse University Art Museum
Syracuse University Humanities Center's Syracuse Symposium on "Landscapes"
Television, Radio, and Film
The SOURCE
Women's and Gender Studies
Writing Studies, Rhetoric, and Composition